CREPIM Days - March 20,2014 - Fiber Flammability
CREPIM DAYS
« LES FIBRES SANS FLAMMES »
Après le succès de 2009, la seconde édition des « Fibres sans Flammes » sera l'occasion de présenter les dernières évolutions de la filière agro-matériaux sur le marché de la construction. De nombreux projets sur cette thématique voient le jour en France et Europe, sont-ils pertinents et sont-ils tournés vers l'industrie ? Plusieurs acteurs dans ce domaine répondront à toutes ces questions. Des cas concrets de développement de matériaux agro-sourcés répondants aux exigences feu seront également mis en avant. Les participants auront la parole tout au long de cet évènement et une table ronde en fin de journée permettra de discuter directement avec l'ensemble des conférenciers.
After the success of 2009, the second edition of " fibers without Flames " will be an opportunity to present the latest developments in the agri - materials on the construction market .

Many projects on this theme emerge in France and Europe , are still relevant and are they turned to the industry?

Several actors in this area will answer all these questions.

Concrete cases of development of agro -sourced materials requirements respondents fire will also be put forward.

Participants will speak throughout the event and a round table at the end of day will talk directly with all the speakers .
Cette journée se terminera par une visite des installations du CREPIM qui est désormais Organisme Certificateur (n°2137) depuis 2013. Le CREPIM pourra désormais vous accompagner dans vos démarches de marquage CE pour les produits de la construction.
The day will conclude with a tour of the facility which is now the CREPIM Certification Body (2137) since 2013. CREPIM will now accompany you in your quest to CE marking for construction products .


CCI Artois - Agence de Béthune - 24 rue Sadi Carnot CS 90005 62401 BETHUNE
Modalités d'inscription :
Evénement PAYANT
– 150€ HT/personne et 90€ HT/personne adhérents du Pôle IAR.
L'inscription comprend la participation à la journée technique ainsi que les repas (petit-déjeuner/déjeuner/cocktail) et les boissons servis durant la journée.
Organisme Certificateur
– numéro 2137 – le CREPIM est là pour vous aider pas à pas dans votre démarche. Un chargé de certification dédié vous accompagnera pour la constitution du dossier, la réalisation des essais, les audits du site de production et la délivrance de l'attestation.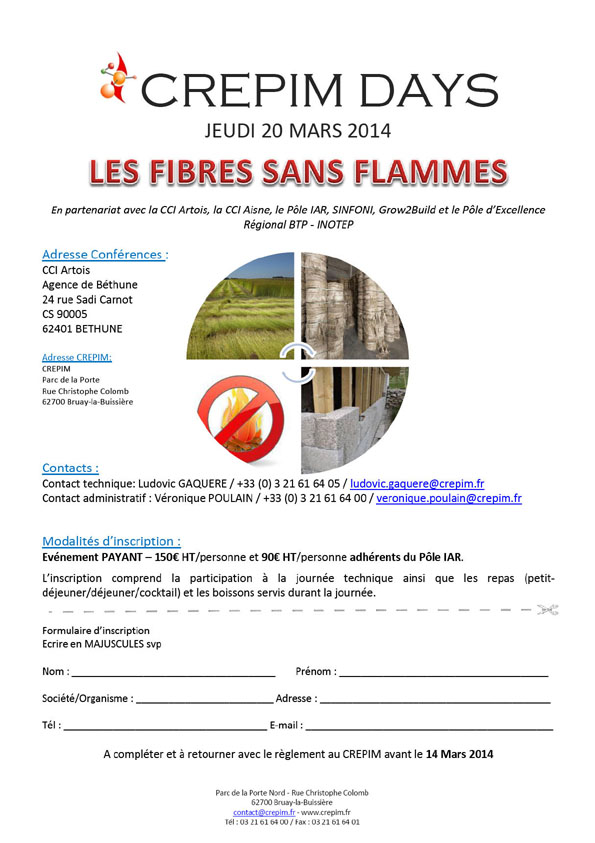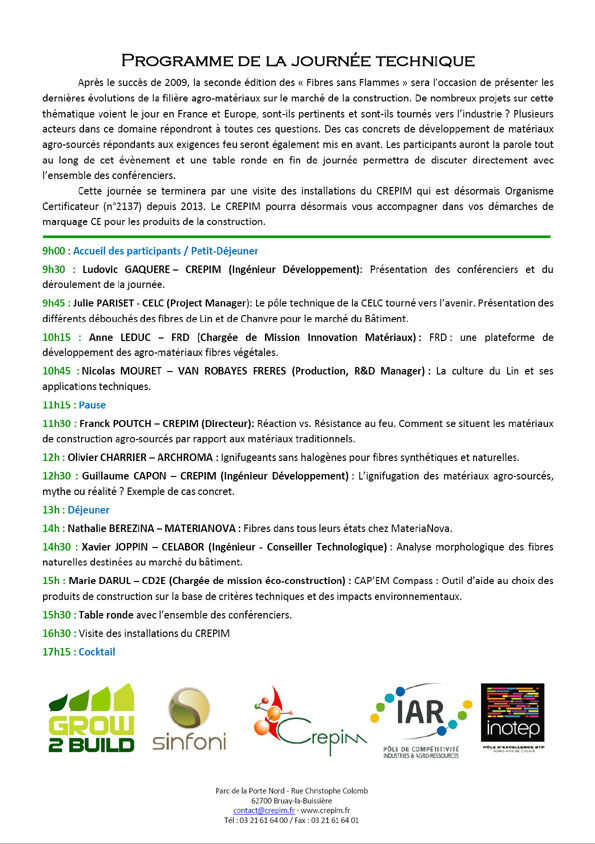 ----------------------------------------------------------------------------------------------------------------------